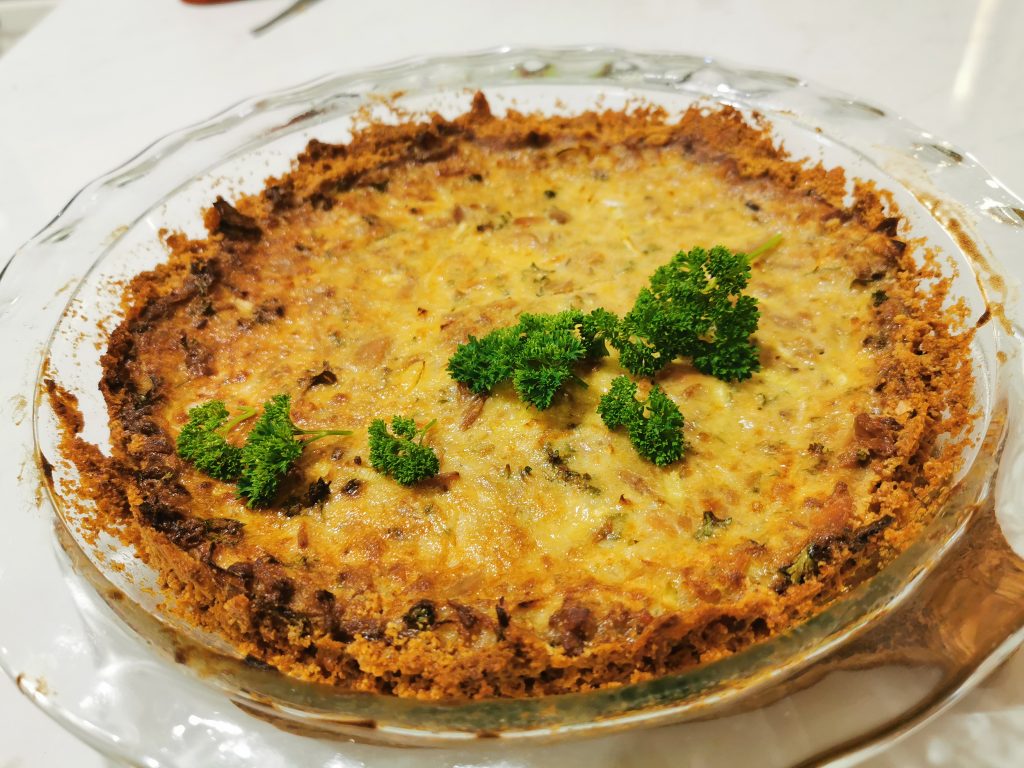 This is the best keto diet tuna pie, tuna bake or tuna tart recipe I have ever tasted. It is an absolute winner. The combination of the toasted almond flour with the cream and cheeses gives it rich, decadent flavours. You will impress even your most discerning of guests. Quick, easy and economical to make, it is ideal for a busy weekday night but not out of place for a lunch entertaining guests with a glass of dry white wine. Best of all it is keto and can be served hot or cold depending on the ambient temperature.
Ingredients
Base
1 cup Almond flour:
1 tablespoon SLA:
1/3 cup Parmesan cheese:
2/3 cup cheddar cheese:
75-100 grams melted butter:
Filling
200 grams canned tuna, drained and flaked:
1 egg, beaten:
½ onion grated:
½ cup thinly sliced leak:
2 Sprigs parsley, chopped:
100 mls fresh cream:
50 mls cream cheese:
Method
Combine base ingredients into a dough: press dough evenly into an oven proof Pie/tart dish. Place base in preheated oven at 180C for 10-15 minutes, until lightly browned.
Combine filling ingredients.
Remove precooked base and layer filling on top.
Return to oven at 180C for 25-30 Minutes. Remove from oven when lightly browned on the surface. Cool for 10 minutes. Slice and serve hot or cold with garden salad, aioli and a wedge of lemon and a glass of dry white wine. It doesn't get any better than this.
Click on this link for a video demonstration:
Short Disclaimer/disclosure: My videos/articles are for informational and educational purposes only, you should consult with a professional before attempting anything seen or done in my videos/articles. Please read full disclaimer above.