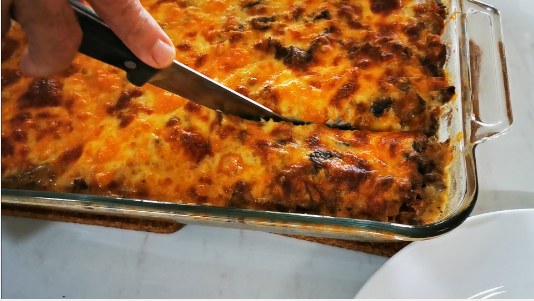 This recipe for a layered ground beef cheese and cabbage pie is both economical financially as well as low in carbohydrates. Don't be fooled though, it is highly nutritious with good quantities of protein, healthy fat and vegetable fibre and vitamins. It definitely fits the description of comfort food as well as being a keto diet meal and a low carb diet meal. Watch the video below to see how to prepare this all from 1 pan with minimal washing up.
Ingredients
750 grams ground (minced) beef
1/2 cabbage – shredded
1 onion – coarsely diced
1/2 leak – sliced
1 tomato diced
1 carrot diced
4-6 mushrooms – sliced
1 teaspoon Dijon mustard
2 cloves crushed garlic
2 teaspoons mixed herbs
1 beef stock cube
200 mls fresh cream
100 grams cream cheese
1 -2 cups grated cheese for topping
1 tablespoon grated Parmesan cheese
Butter for frying
Salt and pepper to taste.
Method
Lightly fry leak and cabbage in butter – leave slightly al dente
Transfer to oven dish and spread into an even layer.
Sprinkle 1 tablespoon of Parmesan over cabbage.
In the same pan fry onion in butter, when clear add ground beef and fry until cooked. Add herbs and spices and stock beef stock cube. Add diced carrot and tomato.
Simmer for 5 minutes with the lid on.
Layer Savoury ground beef over cabbage
In the same pan fry the mushrooms in butter, when cooked add cream and cream cheese. Cook on low heat until cream cheese has melted and blended.
Pour creamed mushrooms evenly over the ground beef.
Cover ingredients in oven dish with a generous layer of grated cheese.
Bake in pre-heated oven at 180C for 20-30 minutes. remove when cheese has browned.
Let it cool for 5 minutes then slice, serve and enjoy!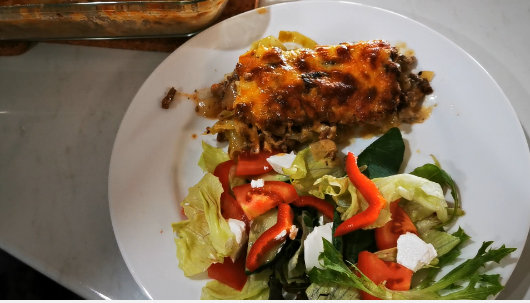 For a full video demonstration watch this video: