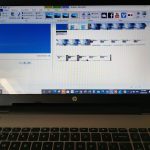 In the video tutorial below will demonstrate how to edit the sound on your video with Windows Movie Maker before uploading your video to YouTube. I will show you where to find copyright free background music from YouTube. I will show how to remove the original soundtrack and add copyright free background music or a narration. How to set start and end points for the added sound and how to change the volume and fade in and fade out.
1. Where to get copyright free music from YouTube – for your YouTube videos.
Sign in to your YouTube channel then click on YouTube Studio-scroll down the left hand menu to Audio Library-click the icon →on left of each song to listen or click on icon second from left ↓to download the music onto your computer.
2. Open Windows Movie maker which is a free video editor in Windows
3. How to add a title card and to add sound to that title card, music or narration
4. How to adjust sound volume, fade in, fade out on single or multiple selected clips
5. How to remove original soundtrack from single or multiple clips
6. How to set start and end points for sound
Here is the link to the video:
Short Disclaimer/disclosure: My videos/articles are for informational and educational purposes only, you should consult with a professional before attempting anything seen or done in my videos/articles. Please read full disclaimer above.