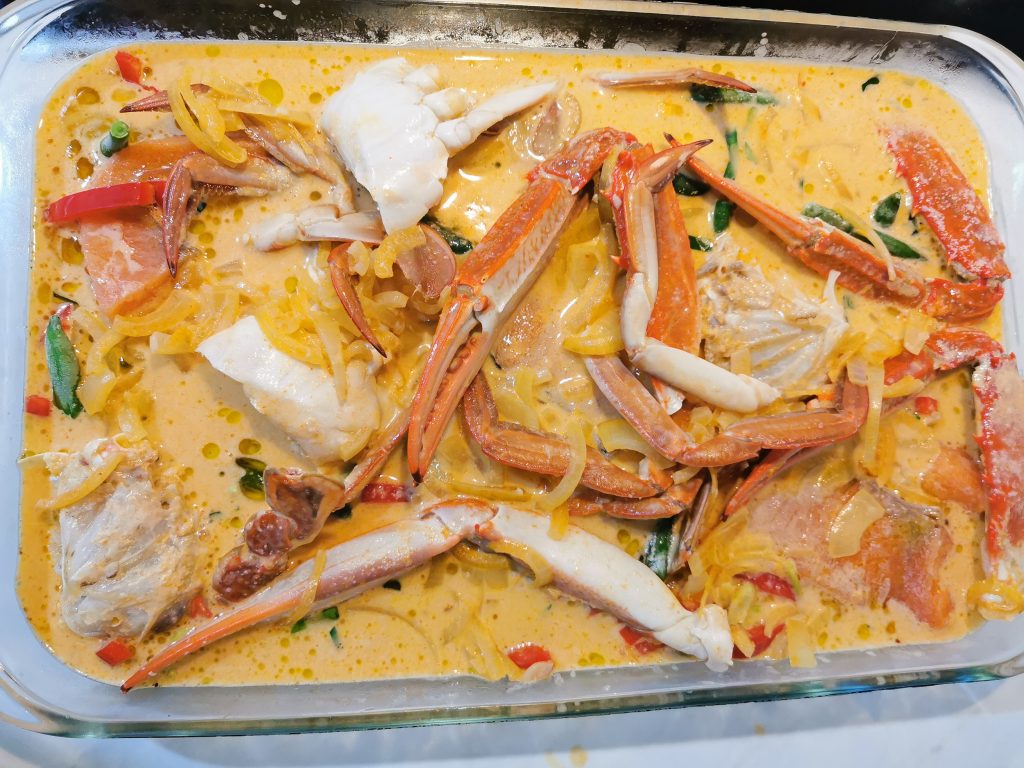 Keto Thai red seafood curry recipe
This Keto diet Thai seafood curry recipe is absolutely delicious. Low in carbohydrates and calories but high in flavour and nutrition. This recipe uses mostly whole natural ingredients and is very easy and quick to prepare. If you are a fan of seafood and enjoy Thai curries this is the ideal dish for you, make it soon you won't regret it.
Ingredients
Ingredients-Thai curry sauce
2 tablespoons red Thai curry paste
1 x 400ml can coconut cream
2 teaspoons coconut oil
1 teaspoon crushed garlic
1 teaspoon grated ginger
100-200 mls fish stock
2 tablespoons fish sauce
Ingredients-vegetables
1 Kaffir lime-zest
3 kaffir lime leaves-chopped
1 stalk lemon grass-sliced
1-2 oriental radish sliced
1 green onion
Fresh coriander leaves
1/2 zucchini
Ingredients – seafood
300 gms firm white fish-skin on
100 gms salmon-skin on
6-8 prawns de-veined-shells on
2 large swimmer crabs pre-cooked and cleaned
Method
Start by frying the red Thai curry paste in some coconut oil over medium heat in a saucepan. Next add the coconut cream and bring to a simmer. Then add the rest of the curry sauce ingredients and vegetables (except for the oriental radish, green onion, some of the fresh coriander and zucchini) and allow to simmer for 2 minutes.
Place the fish, skin down, in an oven proof dish. Pour the curry sauce over the fish. Then add the prawns and crab. Remember the shells are important to the curry's flavour, do not be tempted to remove the shells.
Place in a pre-heated oven at 180C for about 20 minutes (just until the sauce is simmering). Then remove and add oriental radish, green onion and zucchini. Return to the oven for 10 more minutes.
Serve on a bed of steamed cauliflower rice and garnish with some fresh coriander and kaffir lime. Enjoy!
For a video demonstration click below:
Based on 4-5 serves
Cals per serve = 150
Carbs per serve = 5
Short Disclaimer/disclosure: My videos/articles are for informational and educational purposes only, you should consult with a professional before attempting anything seen or done in my videos/articles. Please read full disclaimer above.