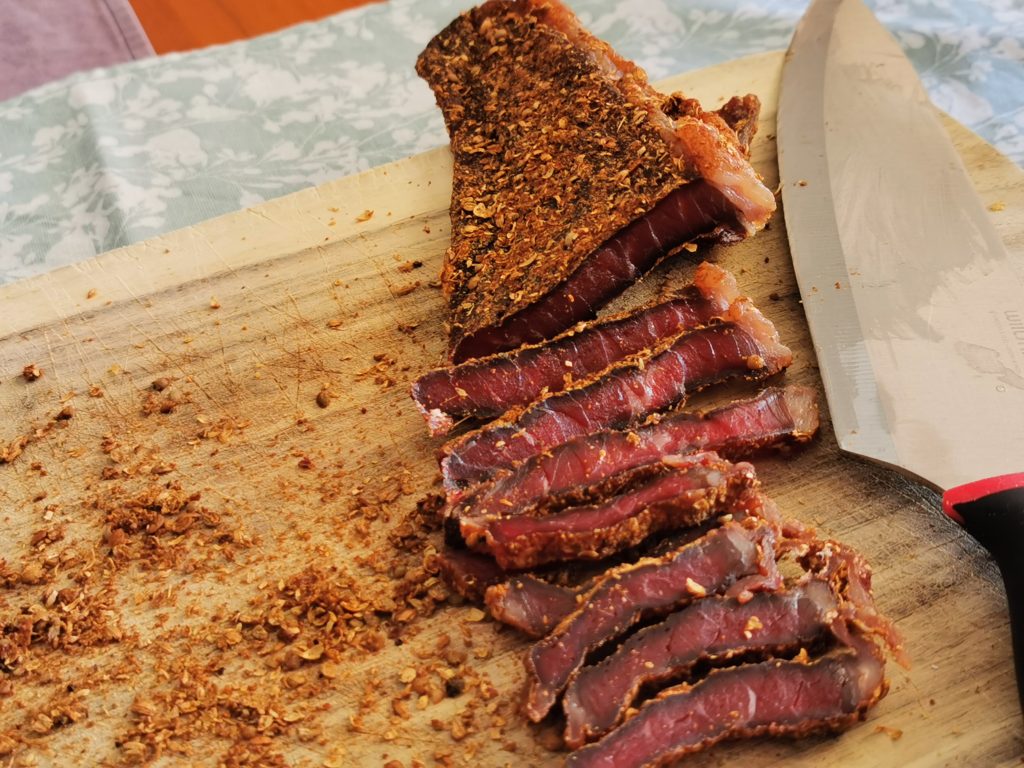 The video below shows you how to make biltong or jerky from corned beef and is ideal for a tasty keto snack. Corned beef is considerably cheaper than fresh beef like topside or silverside in this part of the world so this recipe is a cost effect way to make your favourite snack, biltong or jerky. I have needed to experiment with this recipe to account for the saltiness of corned beef. The biltong is ready for eating after 1.5 to 2 days using a cabinet with continuous fan and mild heat from a 40 watt incandescent light bulb. If you would like to know how to make your own cabinet for next to no cost then take a look at this video: https://www.youtube.com/watch?v=uLoJS1SZ89w it also shows the more traditional biltong recipe for fresh beef. Why not try a combination of the 2 recipes on some fresh biltong beef?
Ingredients
1-2 kg corned beef
5-10 mls coarse salt
100 mils coriander corns
25 mls coriander powder
50 mls paprika
5 mls onion powder
5-10 mls black pepper corns
50 mls brown malt vinegar
Method
Rinse corned beef under the cold tap
Slice corned beef with the grain 15 to 20mm thick
Coat corned beef in vinegar in a plastic or glass container
Blend all spices together
Coat meat liberally with the spice mixture on both sides
Leave meat to marinade in the spices in the fridge for about 3 hours
Attach hanging clips (you can use bend paper clips – see video below)
Hang strips of marinated corned beef in drying cabinet making sure they do not touch each other
Leave 1.5 to days to dry
Slice across the grain of the meat and enjoy
For a serving size of 50 grams:
Carbs = 2 grams
Calories = 150
Shop for biltong jerky dehydrator Australia: https://amzn.to/3fPJDlX
Shop for biltong jerky dehydrator USA/UK: https://amzn.to/364s4tG
Short Disclaimer/disclosure: As an Amazon Associate I earn a small fee from qualifying purchases. There is no additional charge to you. My videos/articles are for informational and educational purposes only, you should consult with a professional before attempting anything seen or done in my videos/articles. See full disclaimer above.
Click this link to see a video demonstration: https://youtu.be/ml-zKzdJ6HI