If your dog won't eat dry food try this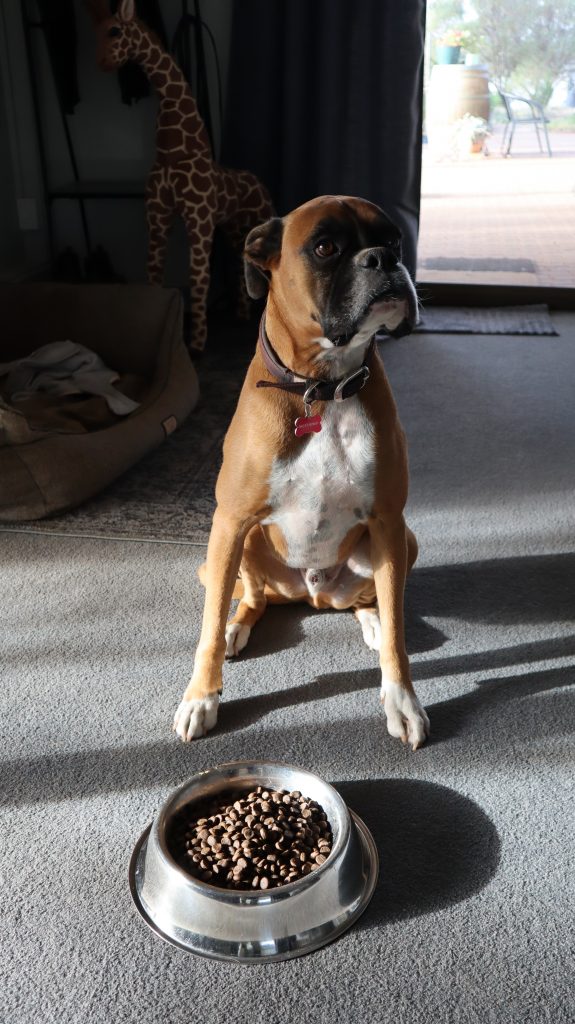 Homemade dog food kibble topper and appetiser
My dog won't eat kibble. My dog won't eat dry pellets. My dog won't eat dry food. These are common complaints, join the club.
Our dog, Red is very loving he's also very boisterous, very active and gets a lot of exercise. So we have tried to make sure that he gets a diet that provides all the nutrients that he needs to keep him healthy. We buy him the best dog kibble or pellets that we can afford. I believe that dry pellets are better for him than soft tinned food because it also helps keep teeth and gums healthy.
That's all very well but he won't always eat it and I believe this is a problem that a lot of dog owners have. So Ann has once again come to the rescue with her resourcefulness she has come up with a simple but highly effective solution in the form of a homemade (DIY) topping and appetiser for his kibble. Ann will share the recipe with us in a moment. He is crazy about this stuff and starts drooling the moment she removes it from the fridge. Always makes me think of Pavlov's dogs. It seems to stimulate his appetite, he will first selectively eat the topping off his kibble and then just keep going and tuck into the kibble.
The beauty of this homemade topping and appetite stimulator is that it is cheap and very quick and easy to make and we make a batch every 3 to 4 weeks and freeze it in tubs. Each tub lasts about 4 or 5 days so we thaw them 1 at a time then keep them in the fridge.
Recipe
ALWAYS CHECK WITH YOUR VET BEFORE MAKING ANY CHANGES TO YOUR DOG'S DIET. AND CHECK THE LABELS OF ALL INGREDIENTS FOR ANYTHING HARMFUL TO DOGS LIKE ONION OR HIGH SALT CONTENT.
It is a kind of chicken goulash but it only has 3 ingredients: 1 whole fresh chicken, 2x low salt chicken stock cubes and 3 tablespoons low salt gravy powder and about 1.7 litres of water. Mix stock and gravy powder in water in a pressure cooker, add chicken. Be sure not to exceed the maximum level for your pressure cooker. Put the lid on and cook on high until it starts blowing steam then turn down until it is just puffing gently. Pressure cook for about 40 minutes then switch off and leave on stove to slowly cool.
When cool, remove all bones (BE SURE ALL BONES HAVE BEEN REMOVED – IT IS BEST TO USE YOUR GLOVED HANDS FOR THIS SO THAT YOU CAN FEEL FOR SMALL BONES). Spoon into plastic tubs and freeze. Once thawed keep in fridge, no more than 4-5 days, so we adjust amount in each tub to last only that long.
We pack into about 6 plastic sealable tubs, of a size that will last Red 4-5 days only, and freeze them immediately. Keep one in fridge at all times and once a day top his kibble with 2-3 tablespoons, be careful not to slip on the drool.
Comments are most welcome, try this and send us some feedback☺️ Why not visit our channel and browse through our other videos? http://www.youtube.com/c/AnnErasmus
Here is the YouTube video:
Time stamped key moments on video
00:00 Beginning
02:28 Homemade Kibble topper and appetite stimulator recipe
05:18 How to remove bones from dog kibble topper and appetite stimulator
06:11 Packing and storing homemade Kibble topper and appetite stimulator
07:07 Feeding time with Homemade Kibble topper and appetite stimulator
08:16 Red in action showing off
Comments are most welcome, try this and send us some feedback☺️ Why not visit our channel and browse through our other videos? http://www.youtube.com/c/AnnErasmus
Short Disclaimer/disclosure: My videos/articles are for informational and educational purposes only, you should consult with a professional before attempting anything seen or done in my videos/articles. Please read full disclaimer here: https://basiclowdown.com/disclaimer-disclosure-page/