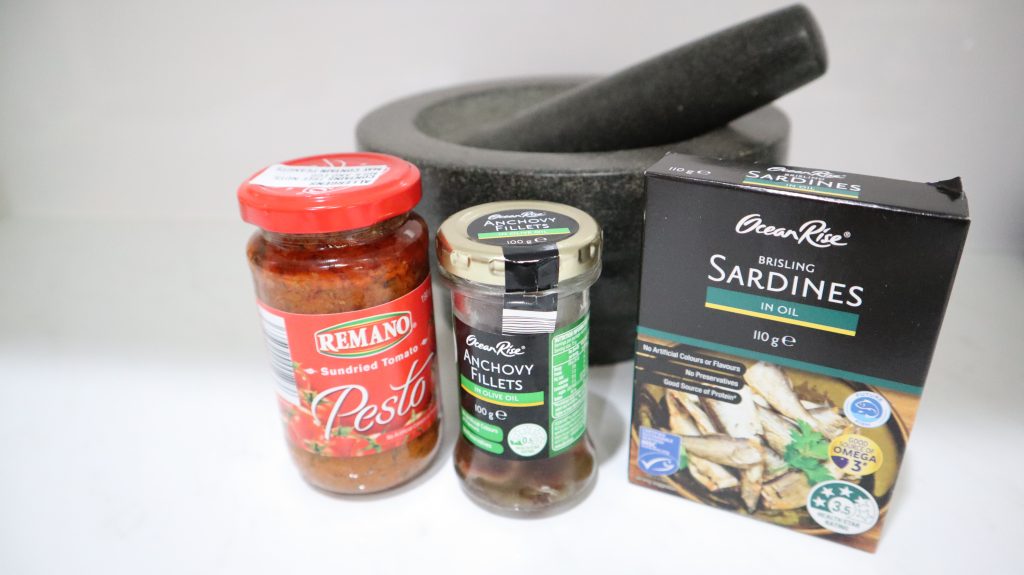 These easy to make fish paste spread recipes are ideal for a quick breakfast or an anytime snack. There is a keto diet and gluten free version of this recipe which does not compromise on taste in fact many people actually prefer this version. Which ever recipe you choose you will be treated to a nutritious and delicious, easy to make breakfast or snack. My friends in South Africa may find this playlist particularly useful as that country no longer manufactures fish paste which is a favoured breakfast spread there.
Recipe
Add the following to a small blender (check labels if you are preparing gluten free)
1 tin (110 grams) sardines in oil
5 or 6 (about 20-30 grams) anchovy fillets in olive oil
3 heaped teaspoons (about 45g) sundried tomato pesto
Apart from these main ingredients one could jazz it up a bit according to your taste for instance you could add chilli, black pepper or herbs, I prefer just a teaspoon of lime juice.
Blend all ingredients until they form a creamy paste, about 1-2 minutes.
Ingredients for fish paste
200 Grams Tinned Tuna in Olive oil
3 teaspoons Mayonnaise
½ teaspoon whole grain mustard
¼ teaspoon crushed garlic
1 sun ripened tomato (in olive oil) chopped
½ to 1 teaspoon Bovril or similar spread
½ teaspoon Paprika
Few drops fresh lemon juice
Sea salt and fresh ground pepper to taste
Few drops Tabasco or Cayenne pepper Optional
Method
Place all ingredients in a small blender and blend for a minute or two until it forms a smooth paste. Taste and adjust flavour as required and re-blend if necessary. Pack fishpaste into a small jar and cover with cling wrap and store in the fridge. It should last 4-5 days.
Spread fishpaste generously on lightly buttered whole grain toast; a few slices of fresh tomato on top adds a healthy touch to a nutritious breakfast. Enjoy with a cuppa tea or coffee and you are ready to face the day. Click on the link below to see a video demonstration.
Here is a video on how to make your own homemade butter: https://youtu.be/25csBpkiH7Y
Here are some more keto diet meal ideas: https://www.youtube.com/playlist?list=PLFEeyzc1BStyKhXwAfOmno9jWj-MzqQ3m
Comments are most welcome, try this and send us some feedback☺️ Why not visit our channel and browse through our other videos? http://www.youtube.com/c/AnnErasmus
Short Disclaimer/disclosure: My videos/articles are for informational and educational purposes only, you should consult with a professional before attempting anything seen or done in my videos/articles. Please read full disclaimer here: https://basiclowdown.com/disclaimer-disclosure-page/