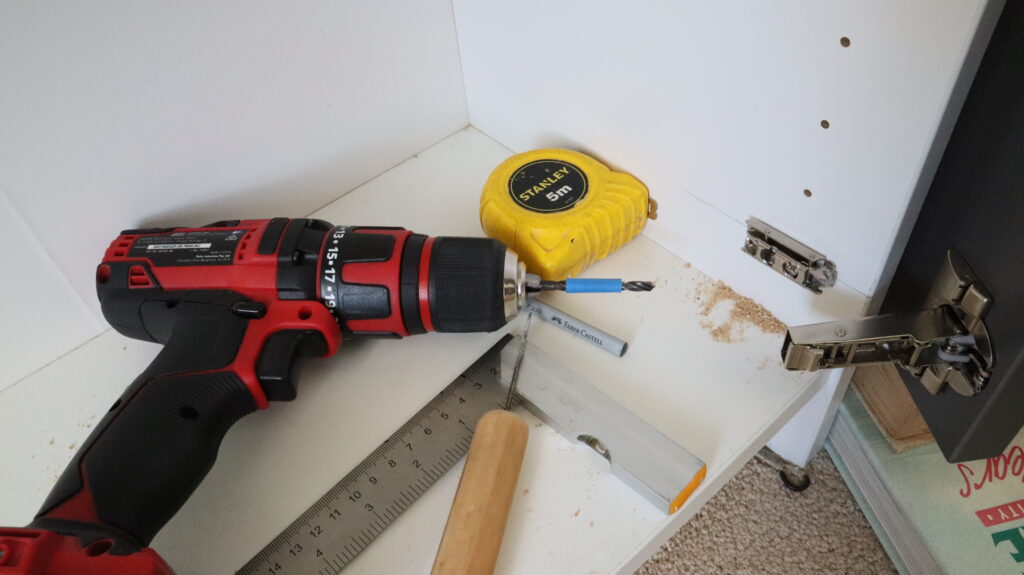 This is how I managed to fit doors meant for an Ikea Metod cabinet to an Ikea Billy cabinet. The hinges for these two types of doors are not interchangeable because hole sizes and positions in the doors and cabinets are different.
I decided to use the Ikea Metod (Utrusta) hinges because they filled the doors correctly but this meant modifying the position and size of the holes for the hinges in in the Billy cabinet. The billy cabinet hinges fit into a single vertical line of 4 mm holes while the Metod hinges fit in 2 rows of 5 mm holes and are horizontally aligned.
Other useful Ikea DIY videos, like how to fit hinges and hang doors and how to adjust hinges to straighten doors are attached below.
This video is a detailed demonstration of how modify the cabinet to accept non-standard door hinges:
Time stamped key moments in the video
00:00 Beginning
00:40 difference between Ikea Metod and Billy cabinet doors
03:10 How to measure exact hinge position on Ikea Metod cabinet
03:38 how to establish hinge base plate hole diameter and depth
04:07 Tip for setting drill depth guide
04:49 Ikea Utrasta hinge hole positions and dimentions
05:57 Marking the hinge positions on the Ikea Billy cabinet
06:50 How to transfer hinge hole positions from Metod to Billy cabinet
08:00 Drilling hinge holes to depth
09:01 Fitting Ikea Utrusta hinge base plates to Billy cabinet
10:02 Hanging the Ikea Metod door on the Billy cabinet
Here are the links to the other videos in this series:
Fit counter top: https://youtu.be/F1-QHImE2XM
Adjust Ikea door hinges: https://youtu.be/JQ_CEhSQrpM
Finished kitchen: https://youtu.be/iHbShdPLu1g
Ikea DIY kitchen playlist: https://www.youtube.com/playlist?list=PLFEeyzc1BStxaOgRB6_CyR0vpFa1R8edy
Comments are most welcome. If you try this, send us some feedback☺️ Why not visit our channel and browse through our other videos? http://www.youtube.com/c/AnnErasmus
Short Disclaimer/disclosure: My videos/articles are for informational and educational purposes only, you should consult with a professional before attempting anything seen or done in my videos/articles. Please read full disclaimer here: https://basiclowdown.com/disclaimer-disclosure-page/