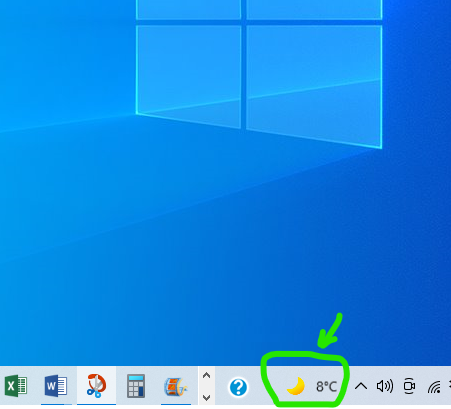 How to remove unwanted Windows icon from taskbar
After a recent Windows update the "news and interest" icon or widget appeared on my taskbar. Now although this icon opens a window with some very useful and interesting local news and weather information I found it would occasionally open by itself and pin itself on top of any other window I might be using. I find that a bit frustrating and in addition sometimes it would not close, as it supposed to, when I clicked outside of it. There is also no little 'X' in the top right hand corner to close it like you would most other windows. If, like me you do not want this icon or widget on your task bar then here is how to remove the windows 10 news and interest icon from the taskbar.
Right click on the Windows task bar and hover on the 'News and interest' option on the menu that opens up.
Next move left to the secondary menu and select 'turn off' or if you just want to reduce the size of the icon select 'show icon only' as opposed to 'show icon and text'
To get the icon back on the taskbar, simply, right click the taskbar and select 'News and interest' – then select 'show icon and text' or 'show icon only'
It is as simple as that.
Here is a YouTube video demonstration:
Here are some key moments in the video:
00:00 Beginning
01:13 How to remove Windows 10 'news and interest' icon from taskbar
02:04 How to return Windows 10 'news and interest' icon to taskbar
02:22 Thank you for watching please like share and subscribe
Thank you for watching and if you found this useful please like, share and subscribe to this channel if you have not already done so. And if you have any questions or comments we would love to hear from you. Just scroll right down below the video and you will find the comments section there.
These videos on computer tips may also be of interest:
Comments are most welcome, try this and send us some feedback☺️ Why not visit our channel and browse through our other videos? http://www.youtube.com/c/AnnErasmus
Short Disclaimer/disclosure: My videos/articles are for informational and educational purposes only, you should consult with a professional before attempting anything seen or done in my videos/articles. Please read full disclaimer here: https://basiclowdown.com/disclaimer-disclosure-page/