Ketogenic and gluten free fish paste recipe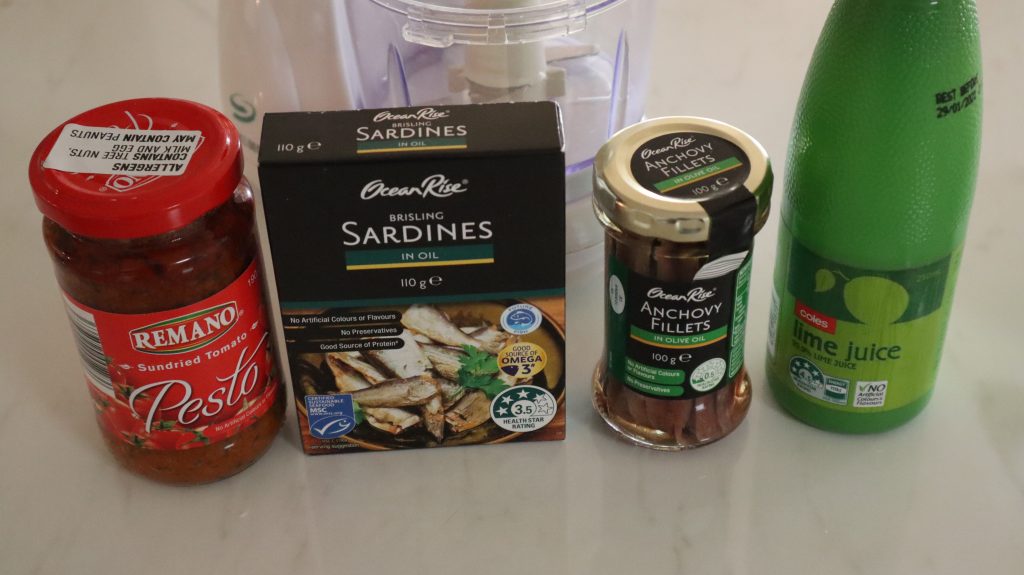 In this post I will introduce my new fish paste recipe which is both keto friendly and gluten free.
A few years ago I made a video on how to make your own fish paste spread. I was motivated to do that because I was unable to find the fish paste I used to love in the local shops. Since then we have gone onto a keto diet and a family member has been diagnosed gluten intolerant so I decided to modify and simplify that original recipe (Link to original fish paste recipe) to make it keto friendly and gluten free.
This keto diet fish paste spread is wonderful on buttered low carb bread as a quick, nutritious breakfast. The beauty of this recipe is its simplicity, just 3 main ingredients and a prep time of 3 to 4 minutes and I believe I have improved the taste as well.
Let's get going and I'll time preparation.
Recipe for ketogenic and gluten free fish paste
Add the following to a small blender (check labels if you are preparing gluten free)
1 tin (110 grams) sardines in oil
5 or 6 (about 20-30 grams) anchovy fillets in olive oil
3 heaped teaspoons (about 45g) sundried tomato pesto
Apart from these main ingredients one could jazz it up a bit according to your taste for instance you could add chilli, black pepper or herbs, I prefer just a teaspoon of lime juice.
Blend all ingredients until they form a creamy paste, about 1-2 minutes.
I prefer the sardines in oil as opposed to those in spring water because they smell less fishy and I believe the oil improves the consistency and shelf-life by cutting out oxygen (along with the lemon or lime juice which lowers the Ph). The fish paste will keep in the fridge for at least 4- 5 days so only make quantities that you will consume in that time. The consistency and flavour improves after a few h ours in the fridge.
The saltiness is determined by the anchovy fillets, so add about 4 or 5 to start with and then add them 1 at a time until the saltiness suites your palate.
Nutritional information
Calories per serve (10mls) = 45 cals
Carbs per serve (10mls) = 0.4g
For the less than 1 gram of carbs breakfast
Spread fish paste generously on buttered low carb seed crackers.
Enjoy with coffee for a delicious and nutritious keto breakfast.
Carbs per serve of keto fish paste (10mls) = 0.4g
Carbs in seed cracker and homemade butter = 0.4g
Total carbs for breakfast = less than 1 gram per cracker with butter and fish paste
Total calories = +/- 250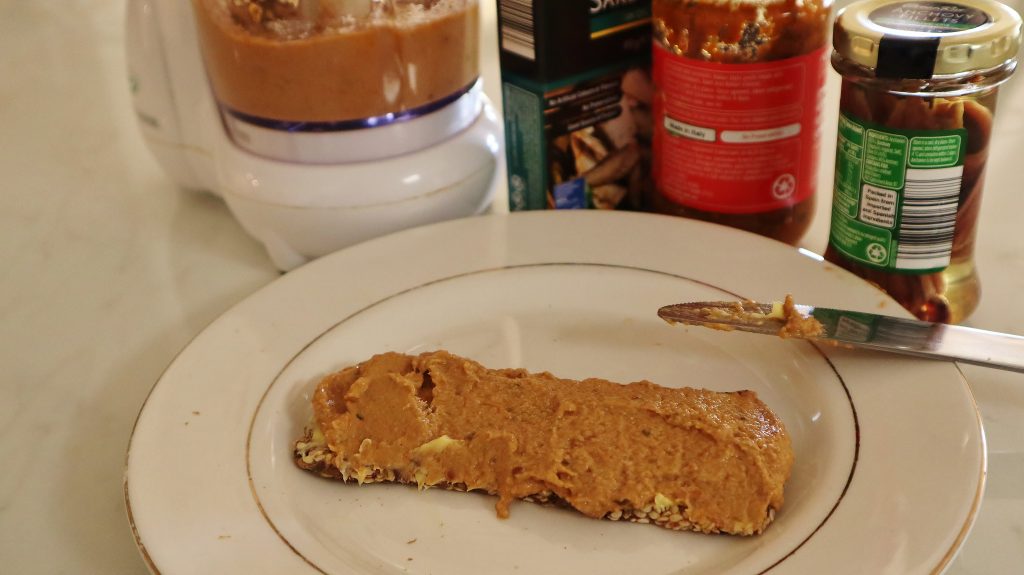 Here is a video demonstration of how to make the ketogenic fish paste:
Time stamped key moments
00:00 Beginning
00:42 Ingredients for ketogenic diet fish paste
01:41 Recipe for ketogenic diet fish paste
03:57 Nutritional information for ketogenic diet fish paste
04:55 Ultra-low carb breakfast with homemade fish paste, homemade butter and seed cracker
Here are some more keto breakfast ideas:
Here is a video on how to make your own homemade butter:
Comments are most welcome, try this and send us some feedback☺️ Why not visit our channel and browse through our other videos? http://www.youtube.com/c/AnnErasmus
Short Disclaimer/disclosure: My videos/articles are for informational and educational purposes only, you should consult with a professional before attempting anything seen or done in my videos/articles. Please read full disclaimer here: https://basiclowdown.com/disclaimer-disclosure-page/